Image: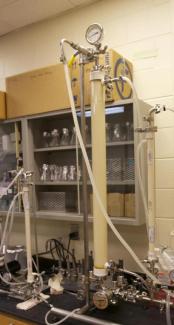 Efraim Racker said "don't waste clean thinking on dirty enzymes." Sometimes tagging a protein with histidines isn't good enough with respect to protein purity. The BFF has experience with protein expression, purification and polishing to get your protein prep as "clean" as it can be. We can use our suite of fermentors & bioreactors to produce your protein of interest typically at higher expression levels than shake flasks, then use our automated equipment to process the expressed protein.  The following is a typical process work-flow:
Stage 0 - Process Development
The BFF has small-scale fermentors where we can test different conditions to come up with the optimal process for your construct.

Stage 1 Seed culture
A single colony is used to inoculate a shake flask that is incubated overnight typically at 250 rpm and 37 °C.  All seed cultures are processed in a certified biosafety cabinet to reduce the risk of contamination.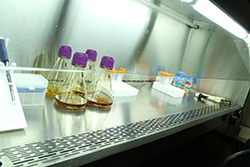 Stage 2 -  Fermentation
A fermentor is setup for the production.  Typically pH and dissolved oxygen (DO) probes are calibrated, the vessel is sterilized and an overnight sterile hold is performed to ensure sterility.  The next day, the seed culture is used to inoculate the fermentor, and the culture is monitored throughout the day.  Once the culture reaches the optimal cell density for induction, the appropriate inducer and any other additives are introduced into the fermentor and the optimal induction temperature (10 – 37 °C) set.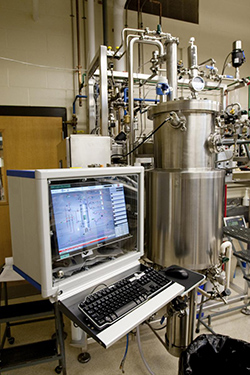 Stage 3 – Harvest and Lysis
Cells are harvested by batch centrifugation and the pellet is resuspended into a suitable lysis buffer.  For cell suspensions less than 1L, we use our Constant Systems homogenizer and for volumes greater than 1L we use the Niro Soavi homogenizer.  After several passes, the material is centrifuged again to remove cell debris and is further clarified by filtration prior to chromatography.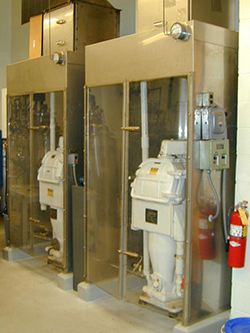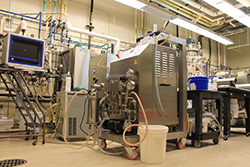 Stage 4 – Purification
The BFF has several AKTA family pump systems and peristaltic pumps and single batches of up to 200g of protein have been purified.  For His-tagged proteins, immobilized metal affinity chromatography (IMAC) is employed.  A nickel charged IMAC column is equilibrated, and clarified lysate is loaded onto the column.  After loading the lysate, a wash step is used to remove any unbound proteins.  The protein is eluted using a buffer containing imidazole.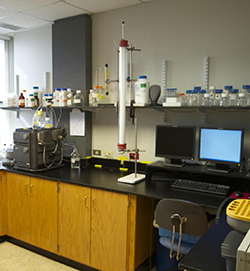 Stage 5 – Further Processing
After purification, the protein is buffer exchanged into storage buffer using either dialysis bags or Tangential Flow Filtration (TFF).  The BFF has TFF platforms up to 10 m2 which can handle hundreds of liters of material, or smaller systems for 10s of milliliters, as well as the hollow fiber system shown above.  The BFF can also help polish your protein using a range of other chromatography modalities including hydrophobic interactions, ion exchange chromatography and other affinity chromatography strategies.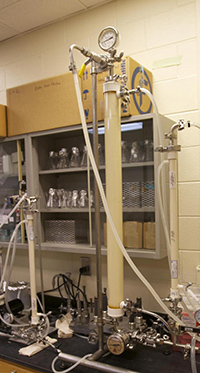 Click here to request a quote or email us for more information on our custom packages.