Image: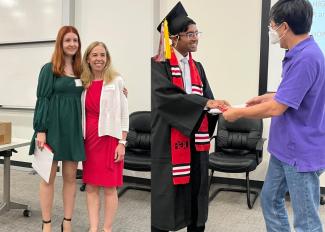 Several years ago our esteemed colleague Professor Dan DerVartanian retired from our faculty but has remained active as Professor Emeritus. It is his donation, with matching funds from the department, that has made two awards possible this year. The award consists of a certificate and carries with it a cash prize funded through his generosity.
The first 2022 Biochemistry & Molecular Biology Professor Emeritus Dan DerVartanian Award for Outstanding Academics went to Oleksandra (Sasha) Stogniy, B.S. in BMB; B.A. in Russian; minor in Public Health; Certificate in Personal & Organizational Leadership. Her research mentors were Drs. Paula Lemons and Dr. Fikri Avci. On the left, Dr. Lemons presented the award to Sasha.
The second went to Ishan K. Vaish, B.S. in BMB; B.S. in Psychology; minor in Public Health. His research mentor was Regents-Georgia Research Alliance Eminent Scholar Chair and Professor of Biochemistry and Molecular Biology Ying Xu, who is shown on the right presenting the award to Ishan.