Image: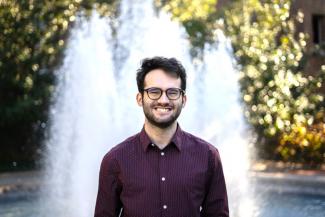 University of Georgia Honors student Landon Clark is among 396 undergraduates across the nation to be recognized as Barry Goldwater Scholars, earning the highest undergraduate award of its type for the fields of the natural sciences, mathematics and engineering.
Clark, from Leesburg, is a third-year CURO Honors Scholar who is triple majoring in biochemistry and molecular biology, genetics and biology.
Since his first weeks as a UGA freshman in August 2017, Clark has conducted research in the lab of Michael Terns, Distinguished Research Professor of Biochemistry and Molecular Biology. He researches the complex processes of CRISPR-Cas immune systems through a model archaeal organism, Pyrococcus furiosus. Now a junior, he has collaborated on three different projects, co-authored a paper, and mentors other undergraduates in this field.