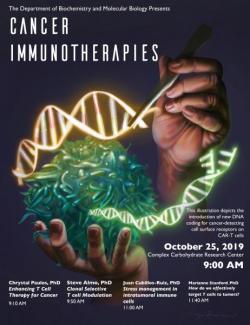 CCRC Auditorium
Chrystal Paulos, Ph.D.
Associate Professor, Department of Microbiology and Immunology
Hollings Cancer Center
Medical University of South Carolina
"Enhancing T cell Therapy for Cancer"
Dr. Paulos' research focuses on the potential role of human IL-17 producing cells in tumor immunity. Currently, Dr. Paulos' laboratory is investigating how ICOS signaling modulates key transcription factors that impact the function fate of inflammatory Th17/Tc17 cells and the mechanisms governing the effectiveness of ICOS-expanded Th17/Tc17 cells using a highly clinically relevant cancer mouse model.
https://medicine.musc.edu/departments/microbiology/research-program/paulos-lab/research
Steven Almo, Ph.D.
Professor and Chair, Department of Biochemistry
Albert Einstein College of Medicine
"Clonal Selective T Cell Modulation"
Our high-resolution structural and functional analysis of the mammalian immune system has resulted in unprecedented understanding of the molecular mechanisms that control immunity and are guiding the development of novel strategies and reagents (e.g., biologics) for the treatment of infectious diseases, autoimmune diseases and cancers.
http://www.einstein.yu.edu/faculty/7091/steven-almo/
Juan Cubillos-Ruiz, Ph.D.
Assistant Professor of Microbiology & Immunology, Weill Cornell Medical College
Scientific Co-Founder and Advisor, Quentis Therapeutics, Inc
"Stress Management in Intratumoral Immune Cells"
Research in the Cubillos-Ruiz lab aims at understanding how Endoplasmic Reticulum (ER) stress responses sculpt immune cell function in health and disease.  Our lab focuses on uncovering and characterizing the immunometabolic and epigenetic programs controlled by ER stress in cancer, pain and infectious diseases.   We also have a particular interest in developing new cancer immunotherapies based on targeting aberrant ER stress responses in the tumor microenvironment.
http://vivo.med.cornell.edu/display/cwid-jur2016
Marianne Stanford, Ph.D.
Vice President, Research and Development of IMV, Inc.
Assistant Professor, Department of Microbiology and Immunology, Dalhousie University
"How Do We Effectively Target T cells to Tumors?"
IMV is pioneering a new class of immunotherapies based on the Company's proprietary drug delivery platform. This patented technology leverages a novel mechanism of action that enables the programming of immune cells in vivo, which are aimed at generating powerful new synthetic therapeutic capabilities. IMV's lead candidate, DPX-Survivac, is a T cell-activating immunotherapy that combines the utility of the platform with a target: survivin.
https://medicine.dal.ca/departments/department-sites/microbiology/people/our-faculty/marianne-stanford.html