Image: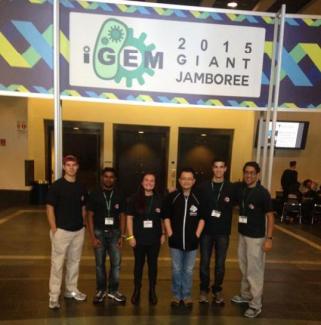 The University of Georgia's iGEM team won a gold medal and runner up for Best Measurement Project award at the 2015 iGEM Giant Jamboree held September 24-28 at Boston, MA. 280 iGEM teams and more than 2700 attendees from across the globe participated in the 2015 competition. The iGEM (International Genetically Engineered Machine) competition is an annual international collegiate synthetic biology competition originated by MIT. (Click heading to continue reading).
The vision behind this competition is to promote synthetic biology research awareness and collaborations to develop practical solutions for the real world.
The goal of the UGA iGEM team is to establish the feasibility of Archaea in the field of synthetic biology.
The 2015 iGEM team includes 16 undergraduates and was led by Rebecca Buchanan (Biochemistry & Molecular Biology). Also attending the Jamboree were undergraduates: Hirel Patel (Chemistry), Steven Kodish (Biomedical Engineering), and John Buchanan (Biology) and instructors: doctoral student Narendran Sekar (Bio and Ag Engineering) and Dr. Zhe Lyu (Microbiology). Key contributors who were unable to attend the Jamboree this year included Walter Asencios (Biology), Lucas Bougang (Biochemistry & Molecular Biology), Anjana Kumar (Biochemistry & Molecular Biology) and Akshay Chandora (Biology). Additional instructor and advisors included Dr. William B. Whitman (Professor, Department of Microbiology), Dr. Yajun Yan (Associate Professor, College of Engineering), and Dr. Rachit Jain (College of Engineering).
More information about the iGEM competition can be found at http://igem.org/Main_Page.